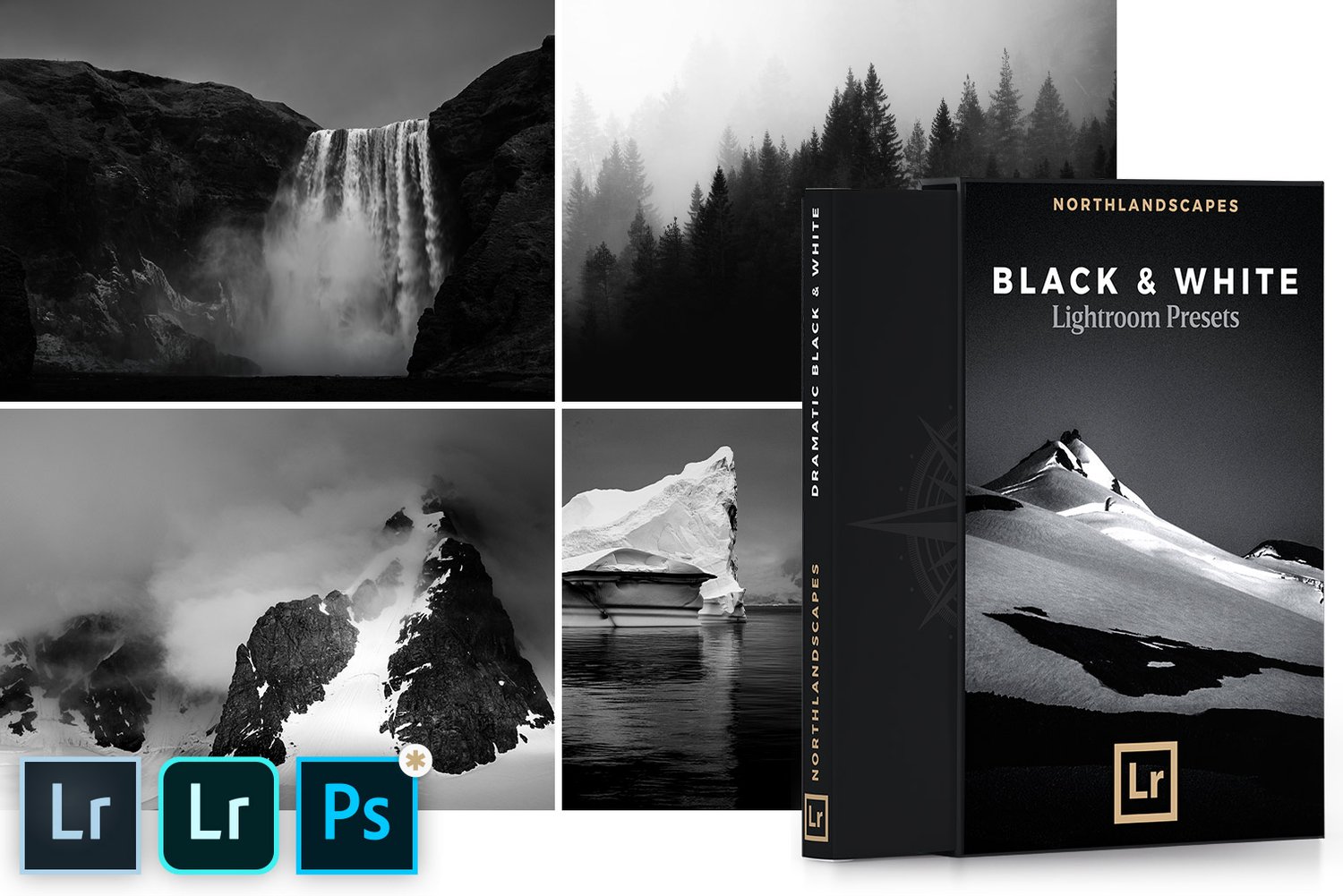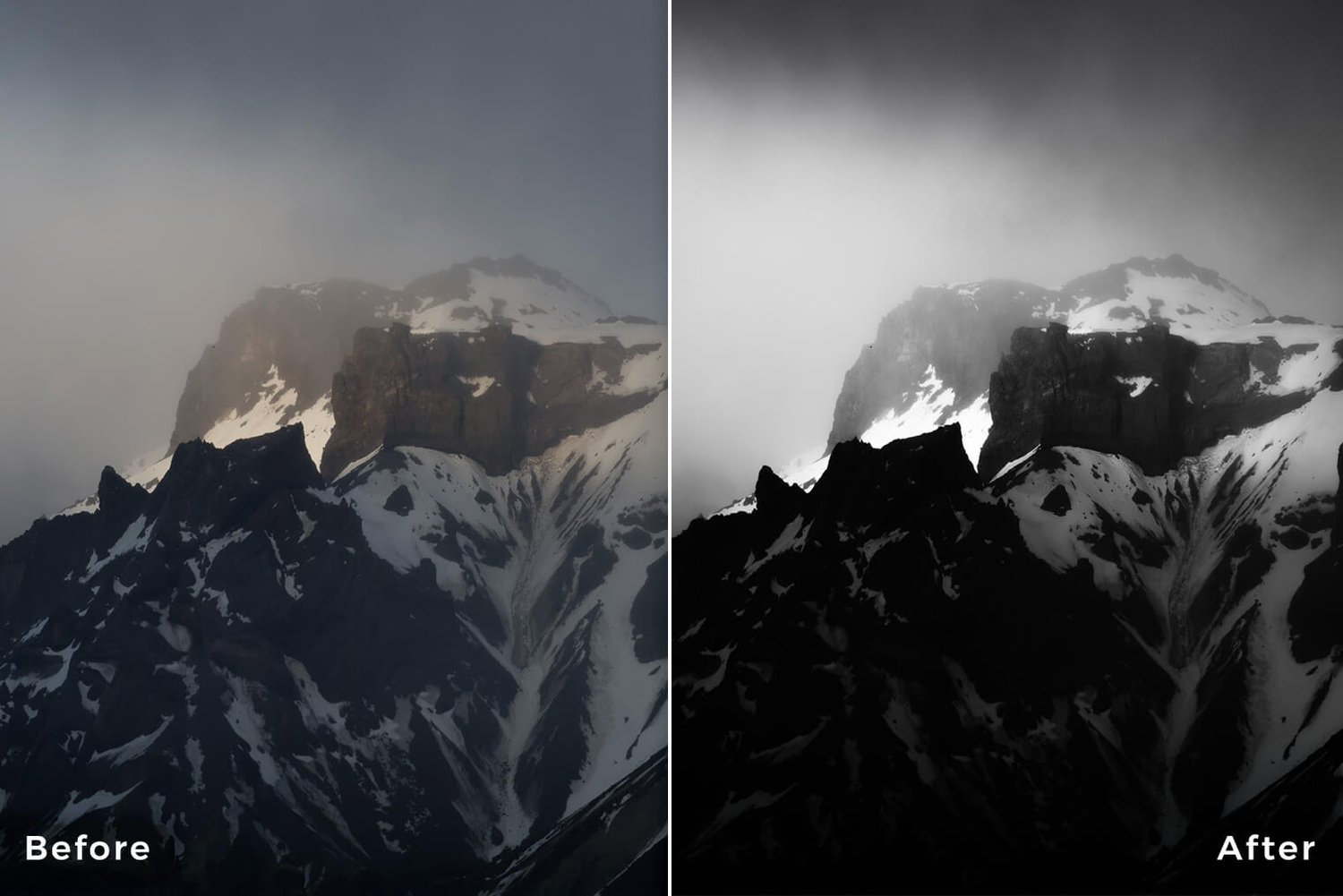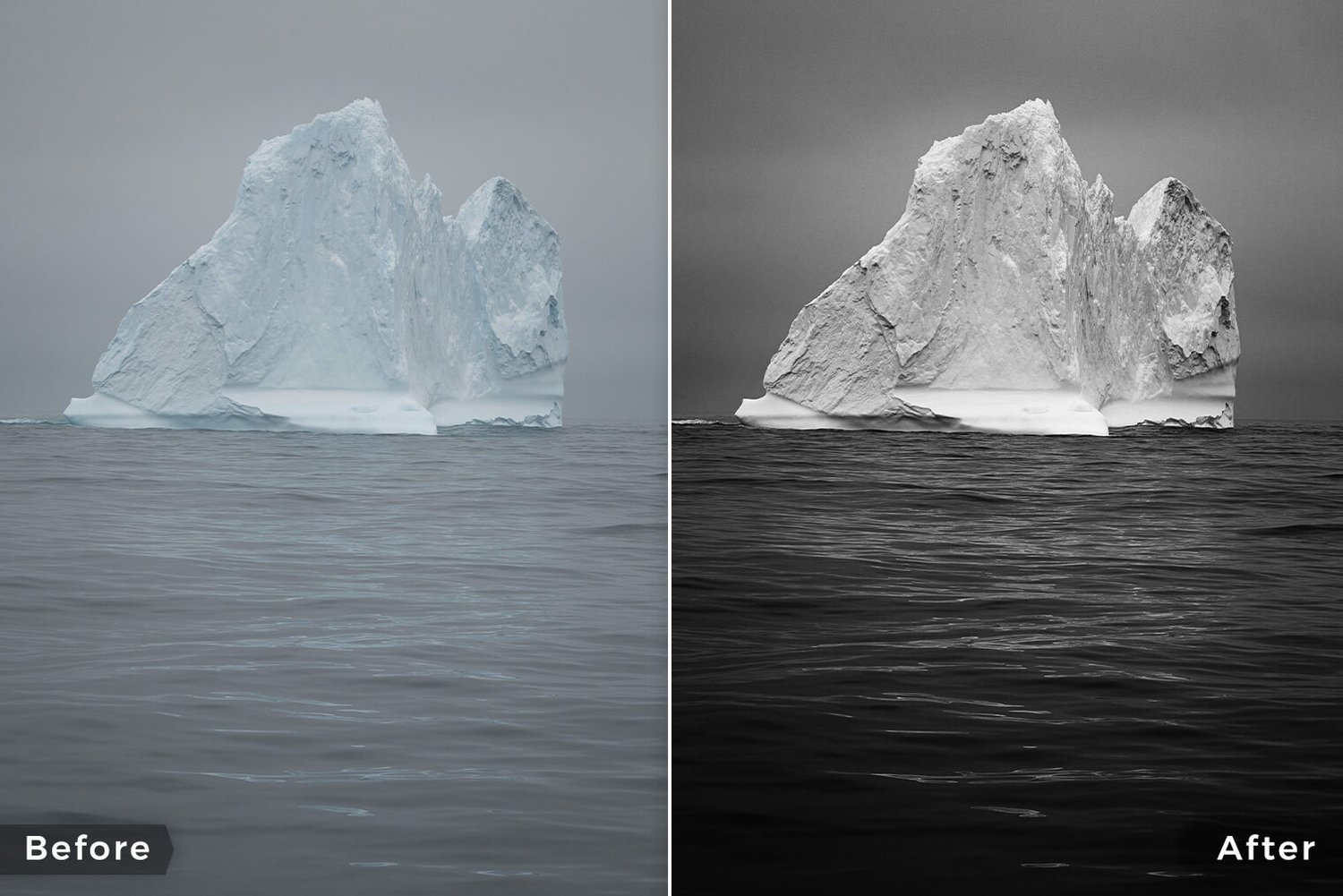 Black & White Lightroom Presets
On Sale
📌
For a detailed description and before and after examples, please visit my website
. 📌
Turn your photographs into dramatic black and white images with deep and rich blacks or a classic faded look.
Have you ever tried black and white editing in Lightroom and then immediately went back to color because it looked kind of boring?
There's good news: It is not your fault!
Without fine-tuning and the appropriate expertise, Lightroom creates very dull black and white photos. And this is where my presets come in: With this product I have created a professional workflow that allows you to achieve appealing black and white images with deep rich blacks in just a few clicks. → Take a look at numerous
before and after examples
and convince yourself.
These are not your average 'one-click presets'.
This product is designed as a
structured workflow
and consists of six modules and 42 presets. This gives you the freedom to individually shape the final image with a selection of
adjustment presets
and develop a
repeatable personal style
in the process. A structured workflow frees you from the worries of where to start and what to do next.
There are five black and white presets for a
rich and saturated look
, another five for a more
dramatic black and white
edit and another five presets for a classic faded look.
Black & white looks (15 presets): Standard / Dramatic / Faded
Vignetting (5 presets)
Split toning (10 presets)
Grain (4 presets)
Noise reduction (4 presets)
Sharpening (4 presets)
📷
Before & After Examples
All Lightroom presets are highly universal and work with a wide variety of images and camera models. This collection clearly follows the "quality over quantity" principle, and the presets have been extensively tested on a large number of images from different camera models.
→ This article might interest you:
How to Capture Dramatic Black & White Landscape Photos
Compatible with Lightroom Desktop and Mobile (DNG presets included)
All presets are compatible with
Adobe Lightroom 4, 5, 6, CC, and Classic CC
(.
lrtemplate
&
XMP
-files included) as well as the latest
Lightroom Mobile app on iOS and Android
. For Lightroom Mobile, you can choose either the synchronization method via Lightroom on your desktop computer or the installation method via DNG presets.
Also works with the latest version of Photoshop!
This product also works with
Adobe Camera Raw (ACR)
in version 10.3 or newer - that means you can use the presets in Adobe Photoshop, too
Before and after examples
📷
Discover more Sample Photos
Customer Reviews
Read All Customer Reviews
Features
42 Lightroom presets (XMP, lrtemplate and DNG format included to ensure maximum compatibility across platforms and devices)
compatible with Adobe Lightroom 4, 5, 6, CC and Classic CC (Win & Mac) as well as the free Lightroom Mobile app for iOS and Android
*also works with Adobe Camera Raw (ACR) in version 10.3 or newer - that means you can use the presets in Photoshop, too!
optimized for JPG and RAW images
→
What is the difference between Adobe Lightroom and Lightroom Classic?
Master Collection: Get all 8 Lightroom Preset Packs for only $69
This product is also included in the 
Master Collection
, along with seven additional preset packs for moody landscape, travel and aerial photography. Get a total of
8 preset packs with a shop value of $250+
for only $69! And the best part:
All future product releases are also included!
📢
More Details / Purchase Bundle