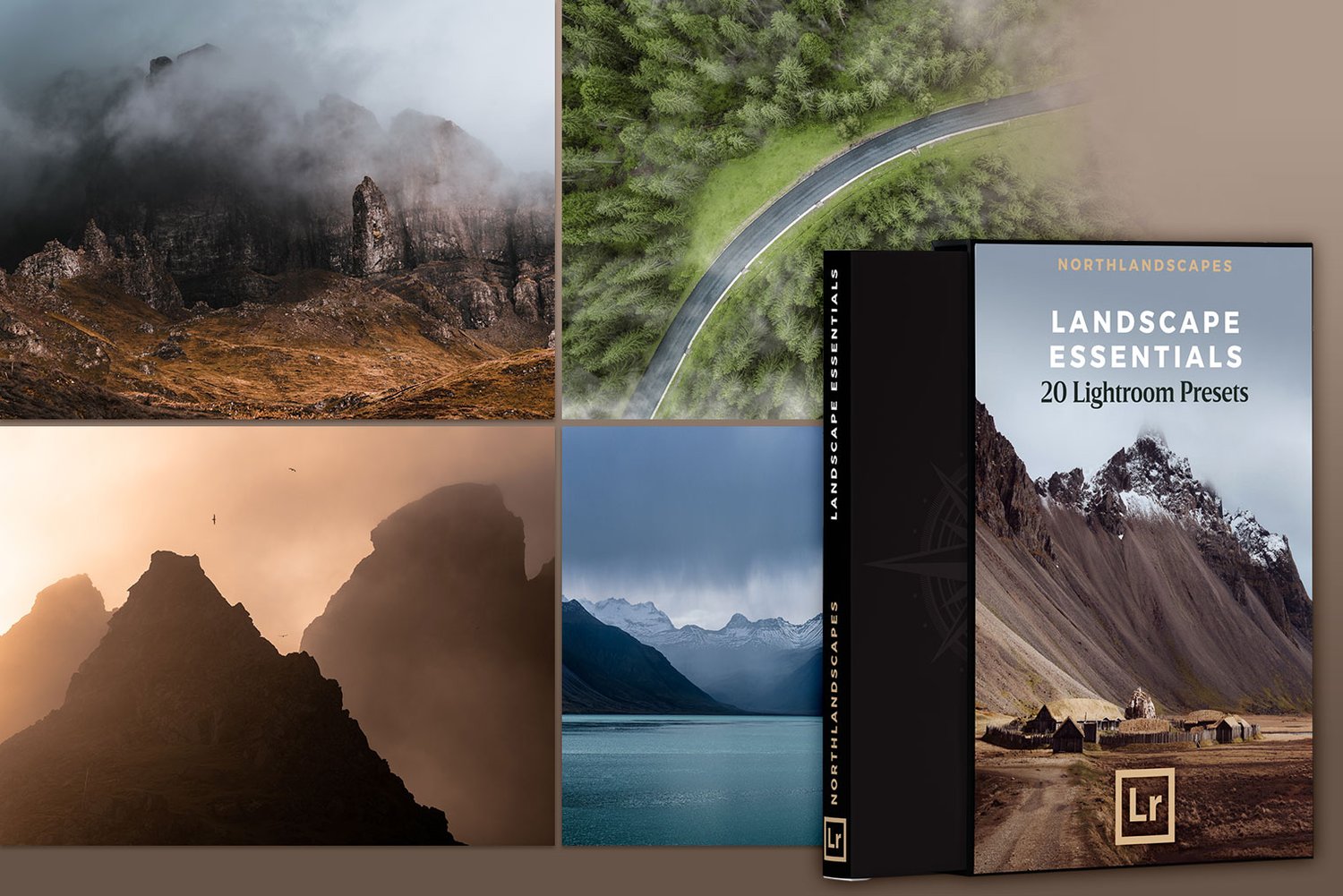 Master Collection: 8 Lightroom Presets Packs by Northlandscapes
On Sale
📌 For a detailed description and before and after examples, please visit my website. 📌
---
Master Collection: 8 Lightroom Preset Packs for Landscape & Travel Photography
Speed up your editing workflow in Lightroom and get fresh ideas for your landscape photography.
▶
Before & After Examples
Included in the Master Collection:
... plus all future product releases!


📢 Read all Customer Reviews

These are not your average 'one-click presets'.
All products are organized in
structured workflows
and consist of up to 9 modules (→
see previews
). This gives you the freedom to individually shape the final image with a selection of
adjustment presets
and develop a
repeatable personal style
in the process. A structured workflow frees you from the worries of where to start and what to do next.
Developed for Lightroom Desktop and Mobile App
All presets are compatible with
Adobe Lightroom 4, 5, 6, CC, and Classic CC
(.lrtemplate & XMP-files included) as well as the latest
Lightroom Mobile app
on iOS and Android. For Lightroom Mobile, you can choose either the
synchronization method
via Lightroom on your desktop computer or the installation method via
DNG presets
.
Quick editing session of 8 images:
Practice your editing skills: 20 RAW photos included
For educational purposes, the Master Collection contains 20 RAW photos in the universal DNG format, enabling you to practice your editing skills or to experiment with the diverse possibilities of the presets.
More about the creator of the presets
My name is Jan, and I'm a visual artist and fine art photographer based in Hamburg. My work focuses on atmospheric and abstract landscape photography of the distant North: Norway, Iceland, Greenland and beyond. Read more
about me
, discover my
fine art
and
landscape series
or learn about my
coaching services for photographers
.
Features
8 Lightroom workflows with a total of 362 Lightroom presets + bonus preset pack
XMP, lrtemplate and DNG format included to ensure maximum compatibility and flexibility across platforms and devices. The only excpetion is that the Dark Light Tales Presets use Lightroom's Color Grading feature and are therefore not compatible with older versions of Lightroom. All other seven preset packs are compatible with Adobe Lightroom 4-6, CC and Classic CC (Win & Mac) as well as the free Lightroom Mobile app for iOS & Android
also works with Adobe Camera Raw (ACR) in version 10.3 or newer - that means you can use the presets in Photoshop, too!
optimized for JPG and RAW images
NEW: 20 RAW photos included. Practice your editing skills in Lightroom
→
What is the difference between Adobe Lightroom and Lightroom Classic?
→
How to Install Lightroom Presets
---
📌
For a detailed description and before and after examples, please visit my website.
📌